Charlas Publicas / Public Talks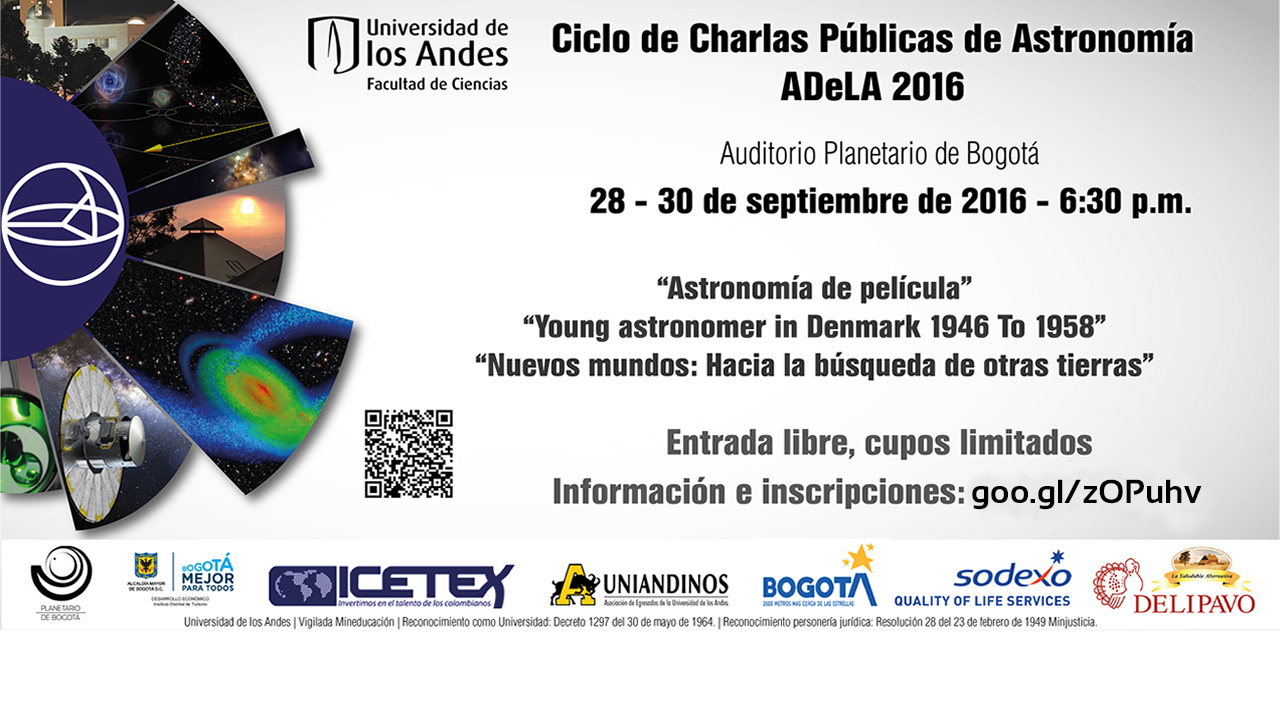 Estas charlas son abiertas a toda la comunidad y se llevarán a cabo en el auditorio del Planetario de Bogotá, que tiene una capacidad máxima de 170 personas. Si está interesado en asistir, debe inscribirse previamente.
Se recomienda llegar un poco antes, pues las charlas empezarán a las 6:30 pm en punto. El auditorio se abrirá desde las 6:10 pm.
---
Miércoles 28 de septiembre de 2016
"Astronomía de película".
Dr. Katherine Vieira
Centro de Investigaciones en Astronomía
Mérida, Venezuela
Resumen
Se presentarán y discutirán las verdades y falsedades en la realización y presentación de escenas astronómicas en algunas películas y series de televisión, antiguas y modernas.
Se hablará también de los aspectos menos conocidos - pero más curiosos - de la vida humana diaria en el espacio, tal como han ocurrido en misiones espaciales.
---
Jueves 29 de septiembre de 2016
Young astronomer in Denmark 1946 to 1958.
Dr. Erik Høg
Niels Bohr Institute
Copenhague, Dinamarca
Esta charla se dará en inglés
Abstrac
A new observatory was founded in 1953 far outside Copenhagen with a meridian circle as the main instrument (http://arxiv.org/abs/1512.01924). Already as a school boy I was attracted by astronomy, built my own mirror telescopes and observed variable stars. As a student just 21 years old, I was given the task to test the new meridian circle, the classical instrument for astrometry, i.e. very accurate observation of star positions. That was my great luck because the work fascinated me and astrometry became my lifelong dedication. From 1960, I renovated the old Hamburg Observatory meridian circle with digital photoelectric techniques and a dedicated computer for its mission to Perth Observatory in Western Australia from 1967. This equipment was unique for its time and it led into the modern revolution of astrometry. From 1975 to 2007, I contributed to the design and implementation of the two astrometry satellite missions Hipparcos and Gaia, launched by the European Space Agency (ESA) in respectively 1989 and 2013. Since 2013 I am planning a third astrometry mission which should be launched about 2035.
---
Viernes 30 de septiembre de 2016
Buscando otras tierras.
Dr. Dante Minniti
Universidad Nacional Andres Bello
Centro de Astrofísica y tecnologías afines - CATA
Instituto Milenio de Astrofísica - MAS
Santiago, Chile
Resumen
¿Es acaso el planeta Tierra el único mundo en el cual existe vida tal como la conocemos y la concebimos?
¿Cómo podemos identificar otros planetas que giren en torno a estrellas diferentes al Sol?
Estas son algunas de las muchas preguntas que se plantean en la actualidad los astrónomos y que comentaremos en esta charla.